After a long and passionate battle to maintain our location, we are losing our lease and must finally close our doors.
We urgently need your help with storage facilities for our materials and items as we vacate the premises. Call us now at (408) 529-2296
87 East San Fernando Street (near 3rd St.)
Downtown San Jose, California 95113
(408) 529-2296
machupicchugallery@hotmail.com
CITY ANGEL By Olga Encisco Smith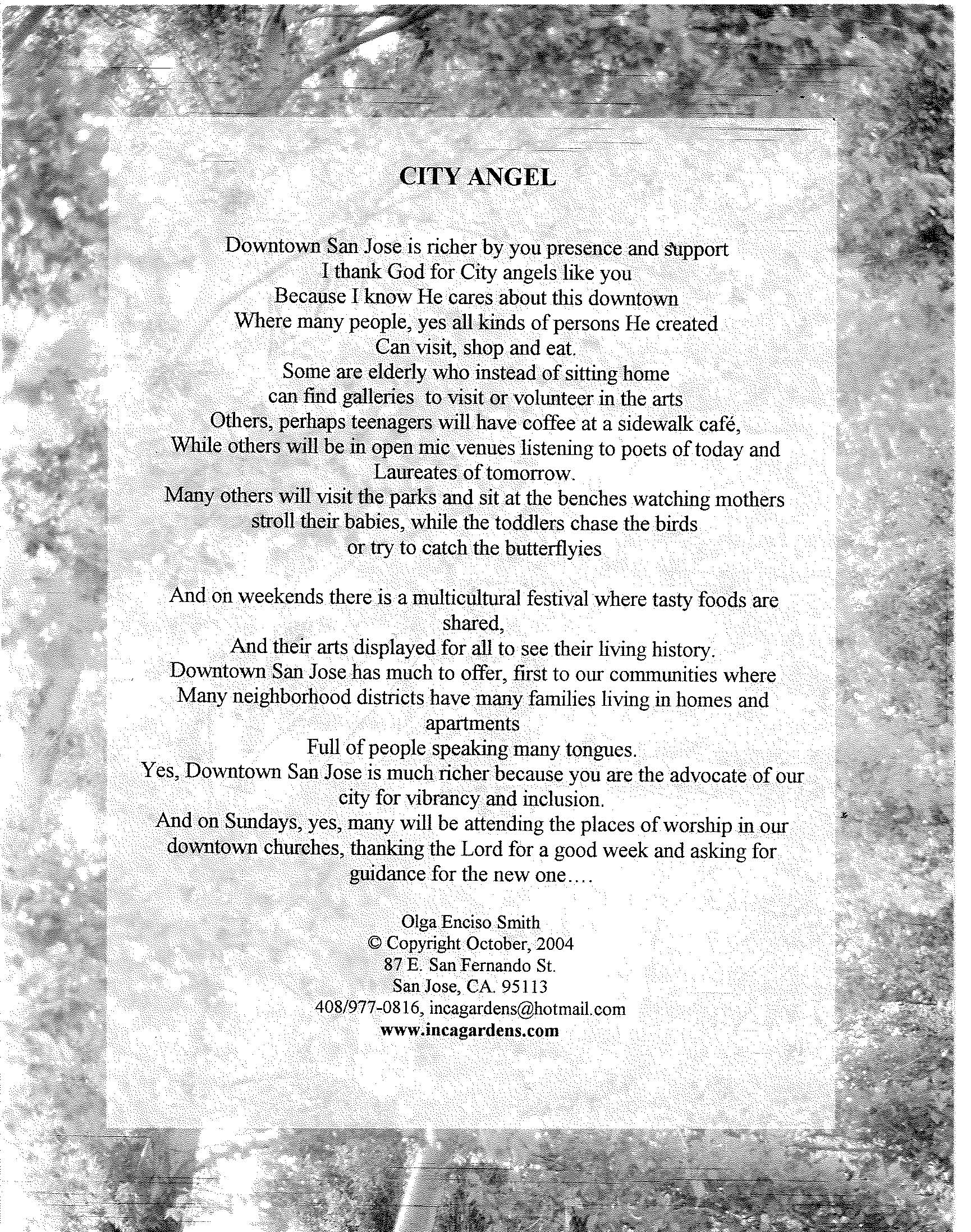 Excellent reviews by "Metro Newspaper" and "S. J. Mercury News"

Beautifully Enhanced by South American Music and Original Latin American Art Courtesy of Machu Picchu
Perú, aside from its famous Inca ruins, is well-known for its culinary richness. It is probably the only country in the Americas (besides Mexico) that has the most delicious and the most variety of regional foods. It is a beautiful mixture of Indian (indigenous), Spanish, Creole, as well as Chinese (fried rice) and Italian (pesto and pastas) prepared with Peruvian flavors. World travelers to the archaeological wonder, Machu Picchu also discover the incredible foods. Their favorites become Lomo Saltado, Ceviche, Anticuchos and Inca Kola. Peruvians love the same, and also Seco, Arroz con Pollo, Papa and Palta Rellena and an array of tasty soups, seafood, juices and desserts. We think you'll love these dishes as well.
¡Buen Provecho!
Catering, Private Banquets, Party Planning,
Wedding Receptions, Reservations, and Take-Out
Call: (408) 529-2296
E-mail: incagardens@hotmail.com
Monday

CLOSED

Tuesday - Friday

11:30 a.m.-3 p.m.

5-9 p.m.

Saturday
1-9 p.m.
Sunday
1-8 p.m.